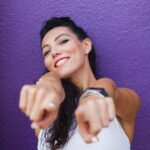 Gulsun
NATIONALITY: Turkish
FAV QUOTE: "You don't have to be great to start. You have to start to be great!"
ABOUT ME:
I am a Mat Work and Reformer Pilates Instructor living and teaching in Dubai. My interest in sports and movement started with volleyball and dance during my childhood, and I found a love for Pilates at university – having experienced the life-changing benefits through my own practice. After almost 10 years of flying high as First Class Emirates crew, I decided to make my Pilates passion my profession. I passed my Pilates Diploma and Reformer courses and have continued my movement education with Pre-Post Natal Pilates, as well as Injuries and Corrective Exercise. My high-energy classes feature creative and flowing plans, and students can expect to leave my classes feeling strong, supported, empowered and ready to take on any challenge!
WHY I LOVE MY JOB:
I love to  witness my clients' movement journey. I like to take care of each and every one of them in person.  I love to be there for them, see their progress, and see how much they can achieve with their bodies. My aim in all of my classes is to make each of my clients feel great when they leave my class.
CLASSES I TEACH:
I teach Pilates Reformer and Pilates Mat.