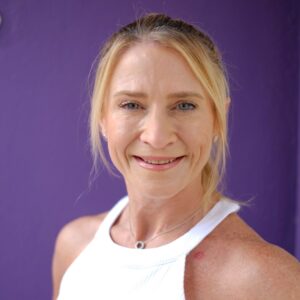 Juliette
NATIONALITY: Australian
WISE WORDS: "You can't go back and change the beginning, but you can start where you are and change the ending."
ABOUT ME:
I have been in the fitness industry for over 30 years, and I am extremely passionate about getting everyone to move! No matter your age, gender or where you are on your fitness journey, my aim is to improve your overall health, posture, muscle tone, strength, and to help you reduce stress levels and boost your mental health via movement.
I am a Master Trainer in Pilates mat and reformer, and am also a qualified Active IQ Tutor and Assessor, training and certifying the trainer. My specialised training methods include a Diploma in NeuroPilates, as well as specialised certifications in Injuries and corrective exercise (rehabilitation), Pre & Post-natal exercise, menopause, Pilates chair and Merrithew Barre instructor.
I am also a highly qualified REPs Level 3 Personal trainer, Les Mills Bodypump instructor, Metafit, and instructor for circuit training, boot camp training, group exercise classes (ETM), Bounce Fit & Aquafit.
Through care and encouragement, my focus is on helping you achieve your health and fitness goals through an experience that is fun and makes you happy, while becoming more confident and stronger in your mind and body.
THE BEST PART ABOUT MY JOB IS:
I love my job because on a daily basis, I get to help people become a better version of themselves, both mentally and physically.
CLASSES I TEACH:
Pilates mat and Reformer, Postural assessments.