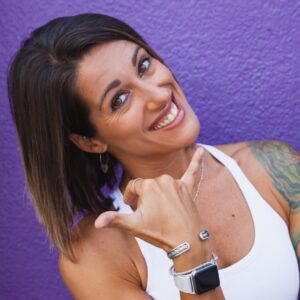 Paola
NATIONALITY: Italian
WISE WORDS: Where there's a will, there's a way.
ABOUT ME:
I'm a free spirit, passionate about sports and travel. At the age of 17, I got in contact with the fitness world and started my professional career by acquiring several certifications (indoor cycling, body pump, step choreography, TRX®️ and personal training).
In 2010, I became Master Trainer creating two group-classes formats related to the indoor cycling workout. In the same year, I also traveled to New York to attend Robert Steinbacher's bodyART®️ Training.
Thanks to the experience in the States, I approached the Pilates discipline as a student at first, finding remarkable benefits to my injured spine (I suffer from two herniated discs and lumbar arthrosis) from its regular practice. It is thanks to the support of my new Pilates routine that I can dedicate my free time to my sport passions: kite surfing and running.
Encouraged by my teaching vocation and interest in bringing wellness in my clients' life, I became a Pilates Fully Certified Instructor by Michael King (Reformer) and the Pilates Academy International NYC.
I am also a Nutritional Professional Coach, certified by ISSA, and my mission is to provide support both from a nutritional and physical-exercise points of view to my clients.
Most recently, I also became a certified IKO Kitesurf Instructor Level 1, and my aim is to travel the world with my kite (and my Pilates tools!).
My inter-disciplinary experience, resulting from years of passionate work and study, defines my strengths:
– challenge of body awareness and mind power
– extra focus on psyco-physical wellness related to the everyday life
– motivational ability for achievement of personal targets
WHY I LOVE MY JOB:
I actually think my job is the best in the world, as it comes from a true passion and can truly change other people's lives!
CLASSES I TEACH:
I teach Reformer Pilates, Mat Pilates, and Personal Training.