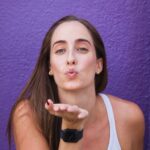 Rhiannon
NATIONALITY: Australia
FAV QUOTE: "Don't judge each day by the harvest you reap, but by the seeds that you plant."
ABOUT ME:
I first took an interest in Pilates at a young age after playing many sports as a child. I loved how Pilates lengthened and strengthened my body without being too strenuous.
I moved from Australia to the UAE in 2015, and soon realised that my passion was to not only be a Pilates student, but to teach how I love to be taught. I love sharing my knowledge of the human body, and helping my clients reach their goals.
WHY I LOVE MY JOB:
As soon as I walked into Motion to attend my first class as a student, I felt so welcomed and attended to. As I became part of the Motion team, I realised just how amazing the studio really is. The students and my colleagues make it very easy to love my job!
CLASSES I TEACH:
I teach Reformer, Pilates Mat and Cadillac, and am trained through master trainer Laura Weston, with Balanced Body.