Olya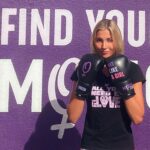 NATIONALITY: Ukrainian
FAV QUOTE: "You can't ignore the pain, but you can get stronger to deal with it."
ABOUT ME:
I started boxing at the age of 11 years old, and by the age of 12, I had started to compete in this big sport. By 2012, I was already the Ukrainian champion among juniors. In July 2017, I became a master of sports. I went through many things and know how painful sport can be; but also, that awesome feeling when you succeed, or achieve your goals. That feeling just cannot be compared to anything else in the world.
Now boxing is my life, and my mission is to transfer the knowledge that I have. I consider myself to be a very happy person, being able to do the job that I love.
WHY I LOVE MY JOB:
I have been doing this since my childhood, and to continue with it now in a professional way is wonderful. There is a saying, "Choose a job that you love, and you will never have to work a day in your life". That's exactly how I feel. For me, coaching is the biggest pleasure and happiness. Seeing new people, sharing my knowledge and seeing smiles after the class are something I love and live for. As simple as making people happy after the class makes me the happiest person.
CLASSES I TEACH:
I teach Boxfit, Toning and Weight Loss, Personal Training