Sofie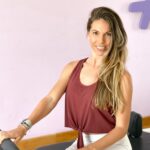 NATIONALITY: Hungarian
FAV QUOTE: "Strength and growth come only through continuous effort and struggle."
ABOUT ME:
Throughout my childhood, I was a professional swimmer. I later switched to synchronized swimming and competed as a member of the Hungarian national team.
Following my professional sports career, I began dance – classical, jazz, and contemporary. During this time I realized how important posture and balance are, in everyday life. Pilates helped me to improve and become a more conscious and precise mover. In 2012, I moved to Dubai and started to work in the airline industry. In my spare time, I continued practicing Pilates and also completed diploma teacher training courses for Mat Pilates and NeuroPilates. I am also a certified Reformer Pilates instructor. I really enjoy the continuous learning opportunities with Pilates. Recently, I completed pre- and post-natal trainings, as well as a Spine corrector course.
My classes not only provide you with a good workout; they also make you feel better through breathing, balance and coordination exercises.
WHY I LOVE MY JOB:
I love to be among people and make them happy. I motivate them and cherish their  achievements. It fills my heart to see their smiles, progress or a few sweat sparkles rolling down their cheeks. Moving the body in a mindful and enjoyable way is fundamental to our physical and mental health. I like to create a safe and fun workout atmosphere, where everyone can enjoy the special time that they have gifted themselves with.
CLASSES I TEACH:
I teach Pilates Mat and Pilates Reformer.