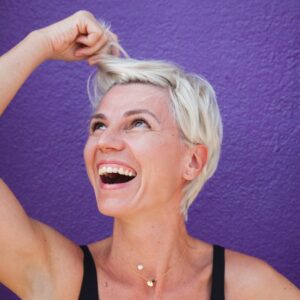 Antonija
NATIONALITY: Croatian
FAV QUOTE: You want it? Reach for it!
ABOUT ME:
Since I was a young girl, sports have been a big part of my life. I began with gymnastics, which gave me a strong foundation for loving the activity and living an active lifestyle, in general. Being active continued throughout my childhood and teenage years, so choosing to study Kinesiology in university was a logical choice for me. Upon completion, I decided to start exploring different ways of exercising and this included Pilates, Reformer, TRX and Functional training. To this day, I believe it is truly amazing how simply being active can transform our body and mind in such an incredible way.
WHY I LOVE MY JOB:
If you join our Motion 'family', you will know the answer to this. Motion is truly a one-of-a-kind place that attracts and brings together women through a shared interest – which is to improve themselves on so many levels – and this is not just limited to fitness. While each on our own personal journey, we meet other great women along the way.
When it comes to teaching, I love to see progress with my clients – and the happiness they experience as a result of it. You wouldn't believe how one extra pulse can make their day. The feeling is true, and it is awesome.
Come and FIND YOUR MOTION!
CLASSES I TEACH:
I teach Reformer, Pilates and Barre.