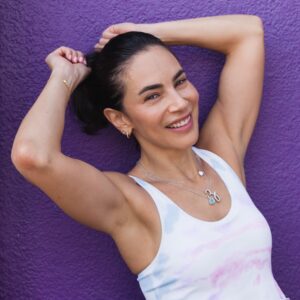 Zeina
NATIONALITY: Jordanian-Palestinian
FAV QUOTE: "Every transformation needs courage to begin and patience to see it through." – Yung Pueblo
ABOUT ME:
I am Jordanian-Palestinian and have lived in Dubai for 16 years. I created SEQUENCE as a way for me to help women connect with themselves and become stronger from the inside-out. I was inspired by my own personal Mind, Body and Spirit journey, and I wanted to share that power with other women. And so, I created a safe place where, together, we do not overthink but rather overcome – through movement. I have been highly disciplined in fitness since a young age and use my ongoing learnings daily in my own practice, as well as in my class. I am professionally certified as fitness instructor, circuit instructor as well as in functional movement.
WHY I LOVE MY JOB:
The best part of my job is getting to see women moving to make a change, believing in themselves, sweating insanely, and the incredible transformations!
CLASSES I TEACH:
I teach SEQUENCE at Motion Fitness. It is a core-powered full body workout for a strong, lean and sculpted body design – from the inside-out.