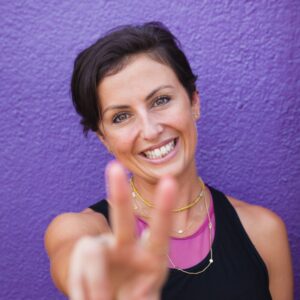 Zoe
NATIONALITY: British
FAV QUOTE: She believed she could, so she did.
ABOUT ME:
I started my fitness career 11 years ago in London, as a group exercise instructor. I was poached by my examiner to work for a gym in Tottenham Court Road – where I fell in love with teaching and decided to change my career to be a full-time Fitness Instructor. Through STOTT Pilates, I then qualified as a Matt instructor and begun my journey in Pilates – teaching clients one-to-one in their homes,  as well as in other renowned private health clubs in the area. Since then, I have continued to study every year to increase my knowledge as an instructor. I have done this consistently, while juggling my own pregnancies and raising my three gorgeous kids. Continuous training and education reminds me that I am still learning – and I love that. I am also inspired and motivated by seeing the benefits of Pilates through my clients.
WHY I LOVE MY JOB:
What can be better than seeing women empower themselves to be fitter, stronger, and more aware of what their mind and body can achieve? I enjoy lighting a spark and seeing women go for it; achieving their potential and the goals they set for themselves. As for Pilates…. what is not to like? It's the balance that our bodies & minds need to continue to perform to the levels that we require from them.
CLASSES I TEACH:
I teach Reformer, Barre and Pilates Matt.