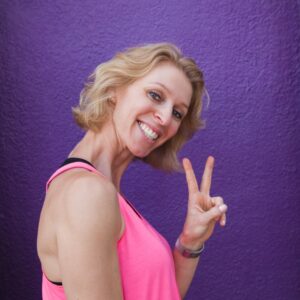 Sandra
NATIONALITY: German
FAV QUOTE: Always challenge yourself while listening to YOUR body!
ABOUT ME:
Sport is my life! I've been doing competitive athletics since I was a child. Since then, I have finished several half-marathons, marathons, and hikes all around the world. After a few years in the corporate world, I decided to make sport my work life too, and I become a fitness professional.
I have a B.A. degree in Fitness Economy from Germany, and followed this up with becoming a  certified personal trainer and gym instructor. I worked in several gyms and studios, where I began to focus on Pilates, and its different training methods and techniques. I specialized in the use of Pilates in orthopaedic rehabilitation of muscle imbalances and Neuropilates, and achieved excellent results with my clients.
After 11 wonderful years living and teaching in Dubai, I decided to move my family back to Germany. Yet, my heart is still in Dubai and at Motion. I am very happy and blessed to be able to come back regularly for visits, to teach all of the amazing women there.
WHY I LOVE MY JOB:

Because it's not my job, it's my passion. The best part of being a trainer is seeing the smiles and happiness on peoples' faces during the transition of their bodies.
I love to see improvements in the physical and mental health of those who practice Pilates with me. It is amazing to watch how much each person can learn about themselves, and understand the importance of it in their daily life. Women I meet through Pilates become close friends and I enjoy growing and learning with them.

MOTION IS:
Family! As one of the first trainers here, my soul will be always in Motion!
CLASSES I TEACH:
I teach Reformer, Pilates Mat and Neuropilates (Sandra is currently a guest teacher at Motion).